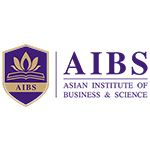 Asian Institute of Business & Science
Nawala Road, Sri Jayawardenepura Kotte, Sri Lanka
Employer Description
The Asian Institute of Business & Science (AIBS) commenced its journey with the primary goal of facilitating pathways in education to students in fields essential in today's global corporate environment. In fulfilling this laudable objective, the academic organization has partnered with internationally recognized academic institutions giving both local and international students the opportunity to venture forth in areas of study with an international network and support framework guaranteeing success. AIBS currently provides diverse and much needed education qualifications in the private tertiary education sector in Sri Lanka, in the areas of Science and Business.
AIBS, at the initial stage delivers Higher National Diplomas affiliated to the recognized educational bodies. The HND in Applied Biology and the HND in Business linked with the popular Pearson UK.
AIBS is founded by a Board of Governors from diverse academic and professional spheres, with invaluable experience and achievements in their respective disciplines, ensuring the exceptional course content and international benchmarks and standards are met and adhered to. Furthermore, AIBS constitutes a panel of professional and experienced academic lecturers tasked to deliver the programs aligned with regulatory and quality requirements.
AIBS has state of the art facilities and resources, such as libraries, lecture halls with latest teaching aids and a laboratory (General, Histopathology, and Microbiology) and inviting student lounge areas. The English Training Centre provides additional support by way of language skills necessary for students to excel in their academic life.